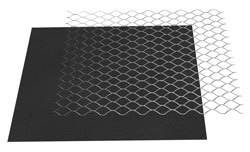 A GALVANIZED EXPANDED STEEL PLASTER/STUCCO BASE
​A superior mesh multi-purpose expanded steel base with an approved Grade-D weather resistant barrier attached. Application of asphalt paper-backed (APB) metal lath is used behind stone, traditional stucco and tile installations as a code compliant weather resistant barrier. It provides protection against wet areas during stucco curing. The asphalt paper-backed weather resistant barrier meets Federal Specification UUB790A: Type 1, Grade-D, Style 2 and is printed on the face of the paper for easy identification. APB is available with diamond mesh lath, self-furring dimple lath and self-furring v-groove lath.
  Wt. per Sq Yd.: 3.4 lbs.

  Sheet Size: 27" x 97"

   Pcs./Bdl.: 10
   Yds./Bdl.: 20
Limitations:
Galvanized steel products should not be used with magnesium oxychloride cement stucco or Portland cement stucco containing calcium chloride additives. Paper-backed lath should not be stored outside where ran water can become trapped between sheets, thereby oxidizing the metal.