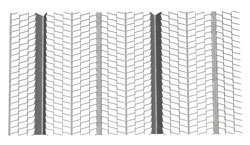 A GALVANIZED EXPANDED STEEL PLASTER/STUCCO BASE
​A High-Rib Metal Lath with a herringbone mesh pattern and seven deep longitudinal solid steel ribs providing superior strength and exceptional rigidity. The heavy ribs enable use on ceiling or wall spans at 24" compliant to Table 3 of ASTM C1063. This reinforced lath product is also used on 2" stud-less partitions and as reinforcement for concrete floor and roof slabs.
  Wt. per Sq Yd.: 3.4 lbs.

  Sheet Size: 27" x 97"

  Pcs./Bdl.: 10
  Yds./Bdl.: 20
Limitations:
Galvanized steel products should not be used with magnesium oxychloride cement stucco or Portland cement stucco containing calcium chloride additives.