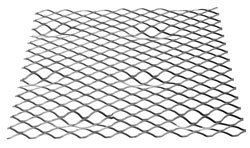 3.4 SELF-FURRING DIMPLE LATH

A GALVANIZED EXPANDED STEEL PLASTER/STUCCO BASE
A self-furring expanded dimpled metal lath ideal for interior and exterior use over sheathing, masonry and other solid surfaces as required per ASTM C1063. The dimple self-furring plaster base is manufactured with evenly spaced indentations that hold the metal lath ¼" away from the surface to be plastered. The dimplesare spaced every 4-6" over the
rectangular sheet. This lath is ideal for manufactured stone
installations, per ASTM C1780.


  Wt. per Sq Yd.: 3.4 lbs.

  Sheet Size: 27" x 97"

   Pcs./Bdl.: 10
   Yds./Bdl.: 20
Limitations:
Galvanized steel products should not be used with magnesium oxychloride cement stucco or Portland cement stucco containing calcium chloride additives. Flat lath must be furred on solid surfaces that receive stucco.